Alle News im Überblick
January 22, 2019; pe
Closure of the SFB 716 at the last membership assembly
The Collaborative Research Center 716 "Dynamic Simulation of Systems with Large Particle Numbers" of the University of Stuttgart, developed the basis, methods and tools for the research of particle simulation and prepared them for the increasing requirements of industrial applications.
After twelve years of funding by the Deutsche Forschungsgemeinschaft (DFG) the closure of the SFB 716 on 31th December 2018 was decided by its members at the membership assembly of the SFB 716 on 6th December 2018. The speaker Prof. Christian Holm, Institute for Computional Physics, took the oportunity to look back on the last year of funding and thanked the members from 15 institutes of the university for their extraordinary cooperation. He also thanked the coordinators of the final conference, that took place from 24th to 26th September 2018 in Heidelberg and has been with eight respected external speakers a success.
The closing report of the third funding period and the closing publication for the scientific journal "EPJST" will be completed until 31th March 2019. The awardees of the SFB 716 have also been honoured at the membership assembly: The publication award 2018 was given to the joint publication of the projects A.6, D.3 and D.4 "Visual and Structural Analysis of Point-based Simulation Ensembles". The exeptional price was awarded to the publication "From Visualization Research to Public Presentation - Design and Realization of a Scientific Exhibition", that was published as a result of the exhibition of the SFB "In the digital laboratory". Dr.-Ing. Manuel Hopp-Hirschler, Institute of Chemical Process Engineering, received the PhD award 2018 for his thesis "Modeling of porous polymer membrane formation".
The SFB 716 looks back on a successfully completed project with manyfold scientific results, PhD thesis, publications and collaborations. The Summer School will be continued also in 2019 beyond the run out of the SFB. The website of the SFB 716 stays online, but will not be updated any more.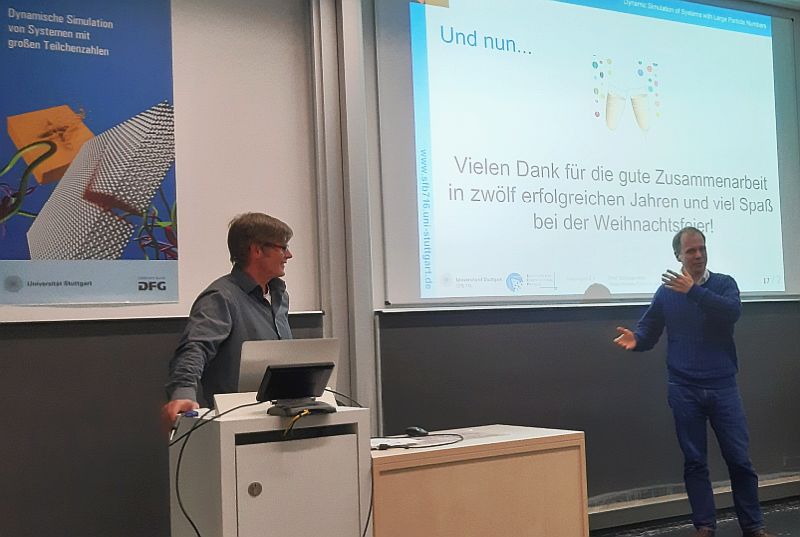 Photo: Petra Enderle. From the right: Project leader Prof. Johannes Kästner, Institute for Theoretical Chemistry, thanks the speaker Prof. Christian Holm for his long-term leadership of the SFB 716.